As a solidary customer you will become part of our team!
You're not only receiving our high quality pineapple with each package you order. You also contribute to the development of one of the poorest countries in the world. The sale of our dried fruit finances manufacturing technology and energy supply based on solar technology. In addition, the 1,500 inhabitants of the village community of Kangulumira receive drinking water through a solar-powered water pump as part of our project. The cooperative achieves a fair income, which doubles the current paid organic export price per kg.
Our product: Dried pineapple
From 4 kg of organic pineapple, a packet of TWIGA Sun Fruits with 250 g is created. The fruits are gently dried at 60°C over a period of 10 - 12 hours without the addition of sugar or preservatives and are of course unsulfured. Up to 90% of the water is removed from the fruits. Almost all valuable ingredients present in the tropical superfood remain unaffected.
The pineapple is a fruit of the bromeliad family and contains the enzyme bromelain, which is said to have an anti-inflammatory and anti-edema effect.
The somewhat different webshop
We also want to organize our transport as sustainable as possible and will import larger quantities of dried fruit from our partner cooperative in campaigns. We know that the air transport of our products is an ecological problem because of the CO2 emissions. Unfortunately, we are not able to fill complete containers due to the still relatively small output quantity, so we are dependent on air freight. In order to optimize the pre- and post-carriage of air freight ecologically and also logistically, we aim at up to 4 campaigns per year. As a result, our products are not permanently available. Our freight forwarder is working to reduce our environmental footprint through its Net Zero Carbon program and is aiming for CO2 neutrality by 2030. Investments are made in projects around the world that help offset greenhouse gas emissions. We will offset each of our shipments accordingly.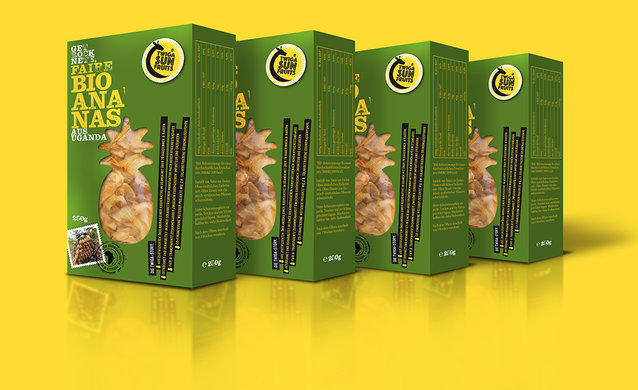 The minimum order quantity is 1 kg - that is 4 x 250 g packets.
Price: EUR 12.00 per 250 g (EUR 48 per kg) + shipping costs.
The fruits are also a very special souvenir with a nice story and a high social impact. Great idea as a birthday present. The dried fruit will keep for at least one year.
You can already register for the first delivery. As soon as our store is active, you will receive a message from us and can place the order.
When will the first delivery arrive?
Our plant has been installed and production has started. The first deliveries have already arrived in Austria and are being dispatched to you. From spring 2024, we will be supplied continuously from our production facility in Kangulumira.